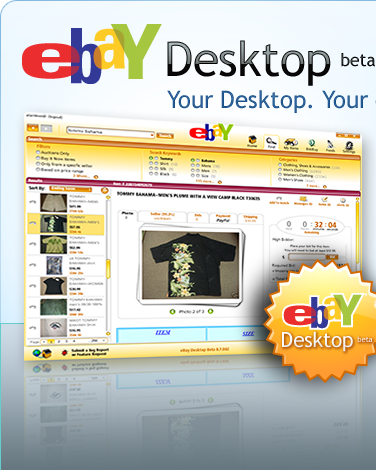 EBay Inc. will significantly widen the beta test for San Dimas, its PC application designed to let buyers interact both offline and online with the company's marketplace.
Until now San Dimas has been available to testers selected by eBay, but it can now be downloaded by eBay buyers for use with the U.S. marketplace.
The application, which has been rebaptized eBay Desktop and was built on Adobe Systems Inc.'s AIR (Adobe Integrated Runtime) platform, will be shown this week at Adobe's Max 2007 show in Chicago.
With eBay Desktop, the online auction giant hopes to give its buyers a tool that will enhance and simplify their purchasing activities on the marketplace.
As a PC application that works whether or not users are connected to the Internet, eBay Desktop is designed to provide a richer functionality and more customizable experience than are possible with a Web browser.
"The desktop is interesting again, now that you can do things that go beyond what the browser can do, but leveraging the same technology," said Alan Lewis, eBay Desktop product manager.
With eBay Desktop, buyers can do things like keep logs of their product searches and transactions, as well as receive updates and alerts on auctions they are participating in. They can also set up search feeds and be notified when certain products are available.
The company is counting on eBay Desktop to help it improve the buying experience on the marketplace. The application is one of several efforts to make eBay more appealing to buyers, including an improved search engine, a Facebook application and a redesigned home page.
The AIR platform, formerly known as Apollo, is designed to let developers use HTML, AJAX, Adobe Flash and Adobe Flex to create desktop applications that perform online operations.
The eBay Desktop application went into "private" beta in June and "a few thousand" testers have been trying it out. It can now be downloaded for free from this Web site.
Original post at PcWorld