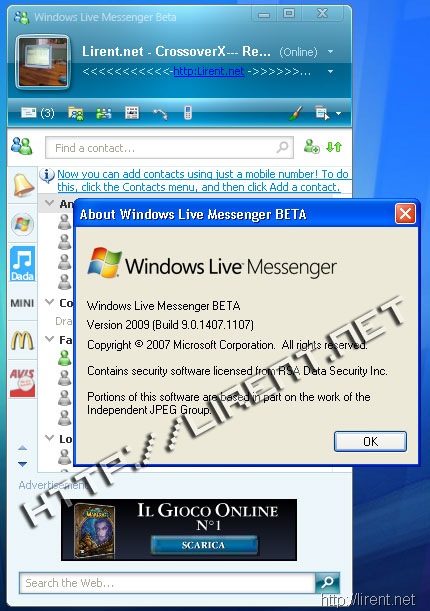 Yes is live and is here, Windows Live Messenger 9 beta now is available for download,  less than one month from the Official Release WLM version 8.5, Softpedia has made available the leaked version of Windows Live messenger 9. The latest version of Windows Live Messenger from Microsoft.
It's the next-generation MSN Messenger. Along with everything you already love about Messenger—your contact list, emoticons, instant access to your friends—there are brilliant new ways to connect and share your photos (and other stuff). As always, Windows Live Messenger is free to download Messenger and use most of its features.
Windows Live Messenger 9 Beta features.
Here are some of the confirmed features of the upcoming Windows Live Messenger 9 Beta.
Multiple Points Of Presence Suport – Now you can sign into Messenger v9 from several different locations and remain signed in, In v8.5 and under, signing in at a new pc will sign you out anywhere else.
Signature sounds – Make sound signatures instead of just graphical ones
Per contact sounds – chose a sound to associate with each of your contacts' actions
Animated Display Pictures – now you can use animated .gif files as your display picture
Links in Status Message – Links in the status message are now clickable
SPIM reporting – report and block users who spam you via IM.
Update 25/03/2009