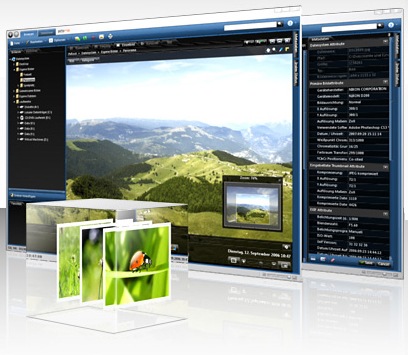 Pictomio is Freeware and sets new standards for 3D accelerated browsing of your photo and video collection.
Pictomio requires a graphics card with ShaderModel 2.0 and a minimum of 128 MB video RAM. Pictomio is primary a photo management software that helps you to organize, view and archive your favorite photos. With Pictomio you are able to quickly find pictures, categorize them and scroll through your entire photo collections.
Pictomio supports the full potential of state of the art graphic hardware to provide the users with dynamic 3D views of their images e.g. in the slideshow-section or through the 3D image carousel.
Pictomio Features
Image Management
Conveniently mange entire photo libraries and archives with several thousand images. When managing photos, browse directories on your hard drives or add photos to a virtual photo album by using drag-and-drop.
Library
Use the library to sort your photos by date, rating or category.
Create albums and sub-albums
The main internal difference between albums and categories in Pictomio is the fact that albums can be nested, that means an album can have sub-albums. Use the "Add Folder" button when an album is selected in the library tree view to add a sub-album or just create new albums.
Smooth Image Browsing
Use the scroll-bar or the mouse-wheel to scroll the thumbnail view (in grid or filmstrip mode) to take advantage of the smooth scrolling function which is much smoother than in most other applications.
Liquid-Zoom
Smooth high-quality zooming, utilizing mip levels to reduce aliasing, allows you to continuously zoom into your photos. You can also disable bilinear filtering to view every pixel of your photos.
3D Image Carousel
Scroll through your photos quickly and easily by flipping through the 3D image carousel. Use your mouse to specify the direction in which you want your photos to move.
Exif-Editor
The integrated Exif editor allows you to view, edit, and save meta data associated with JPEG files.
Browse database by image information (EXIF value)
You can browse for images by their EXIF meta tags in the Library. For example you can easily select all images that where taken with a certain camera model or at a certain shutter speed.
Image Rating
While you are viewing your photos, you can use a dynamic toolbar to access all of the main software functions. The rating system uses stars, which makes rating your photos quick and easy.
Tools
Web designers can utilize the color pipette and the measuring tool to determine the color values of pixels and precisely measure any section of a photo.
Slideshows
Pictomio makes it easy to create slideshows simply by using the drag-and-drop option. Elaborate transitions are now available with Pictomio by utilizing the capabilities of modern 3D graphics cards.
Tagging support
An arbitrary number of tags can be attached to individual pixel positions or to an image as whole.
Search functionality
You can enter search terms in the search box at the top right of the Pictomio main window. The text you enter is searched for in several attributes of the image files, e.g. filename, tags, categories, albums, description etc.
Video & audio-playback
Simple video and audio-files can be played in the zoom-view and in the carrousel view (even with a mirror-effect on the virtual floor).
Image information collapsible window
A collapsible window in the main window shows the most important information about an image and lets you consistently change rating, annotation, categories and global image tags from one central place in the application.
Start external applications to edit an image
You can start your image editing programms that are registered for its file-type. Click with the right mouse button on an image and select "Open with.. "(choose your editing programm) from the context-menu that appears.
Website | Pictomio