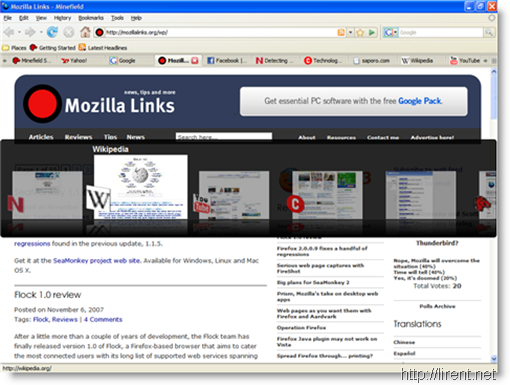 Among Firefox 3 pending improvements it a cool tab preview feature that shows actual thumbnails of the currently opened tabs. The feature is currently available as an experimental extension developed by Dao Gottwald, but could make its way to Firefox 3 final code.
First, the List all tabs button in the tab bar is replaced with a button that opens a black window with thumbnails and the active tab highlighted in a slightly bigger size. Tabs can be located by inspection or you can enter a few letters from the tab title you want and thumbnails are quickly filtered out.
Switching tabs with the Ctrl + Tab (Cmd + Tab on Mac) brings a black bar across the whole screen with thumbnails of the closest tabs with the site's favicon overlayed for easier identification.
As you can notice from the screenshot below, the selected tab is shown slightly to the left (instead of the  obvious center) and may seem odd at first glance. However this position allows to see the most next tabs at a time.
To be honest, I didn't see the benefit immediately. But after using it for a while I realize it's really easier and quicker to reach the tab you are looking for when you can see how much apart it is. Filtering may be too much though.
Performance-wise, CPU usage spiked from 2-3% to 45-50% during high speed tab switching (that is, I kept Ctrl + Tab pressed for a while), but immediately went back to previous cool 2-3% usage.
Firefox 3 Beta 1 is expected within the next couple of weeks.
Get Ctrl+Tab from Mozilla Bugzilla
[via Mozillalink]