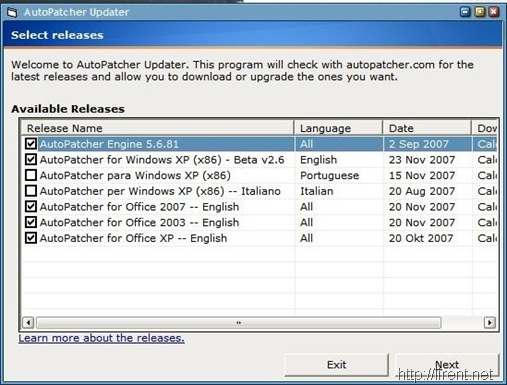 Autopatcher was the software almost everyone I knew used, to download Windows Updates, without having to connect to the Microsoft Servers. We Could download updates, burn it to a CD and share with all friends. But Microsoft wasn't too happy about all this, and they decided to fight against Autopatcher, and had it almost shut down.
But the Autopatcher project is back into work, and the team just released an early Beta of Autopatcher. This version of beta gets around Microsoft's restrictions by downloading updates for Windows and Microsoft Office straight from Windows Update Server rather their own. Once the updates have been downloaded, you can install them by running AutoPatcher.exe. However, the new beta is no where near the older versions in comparison. The new version is pretty much nothing, because you cannot make the updates portable by burning them on a CD, that makes it pretty much like the built in Windows Update.
But even then, it gives a ray of hope. Maybe we will see a new Autopatcher that will help us download updates more easily than before. Till then, here's my suggestion to Microsoft, Why don't you guys try and save some bandwidth?
[Via TechBuzzz->dailyapps.net]