With so many different brands of antivirus software, choosing one can not only be difficult, but also expensive. With this being said, I would like to share with you some of the best free antivirus programs available including a site that ranks all antivirus software based on how successful they are at removing viruses.
Avast 4 Home Edition is one of the best free antivirus programs available. Avast requires a free 1-year registration, which can be renewed upon expiration. The only thing I don't like about Avast is the interface. It looks like it is supposed to play music instead of scan for viruses. If you can get past the interface though, Avast is still one great product.
Avast 4 Home Edition

AVG Antivirus Free Edition is also another great free antivirus program. The install is lite and it seems to use little resources. The biggest difference in the free edition and the premium edition is that some non-critical features are disabled, updates are not pushed out as fast, and you don't have access to 24/7 technical support. Even with these differences, the AVG Free Edition is still one of the best.
AVG Antivirus Free Edition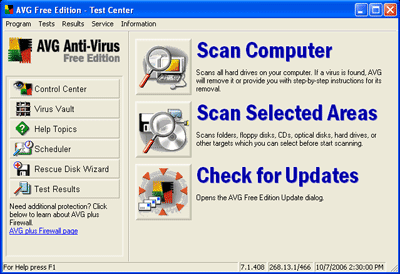 Although some will argue that it is not critical to install antivirus software on your Mac, ClamXav is one of the best free antivirus programs for OS X. ClamXav is built upon the popular free ClamAV open source command line antivirus engine and converts it into an easy to use interface.
ClamXav Antivirus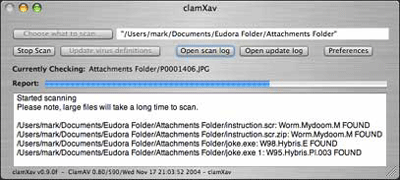 For a list of all antivirus software and rankings, check out www.virus.gr. They have tested almost every antivirus program and ranked them based upon their ability to remove viruses. The rank was assigned by testing each antivirus program against 147184 different viruses and the percentage of viruses they removed.
If you have experience with any other free antivirus software or know of any other comparisons, please feel free to share them.
Post by CaseyTech