Open Source Online HTML Editor: Xinha
Xinha is a powerful & open source HTML (WYSIWYG) editor that works in all current browsers. Its configurabilty and extensibility make it easy to build just the right editor for multiple purposes, from a restricted mini-editor for one database field to a full-fledged website editor. Its liberal, BSD licence makes it an ideal candidate for integration into any kind of project.
It is a community-built script presenting various options for max. customization.
Demo: http://xinha.webfactional.com/wiki/Examples
Download: http://xinha.webfactional.com/wiki/DownloadsPage
Free XHTML Editor: WYMeditor

WYMeditor is a free XHTML editor script that generates perfectly structured XHTML strict code.
It doesn't provide shortcuts for styling the fonts, colors, etc. For this reason, it calls itself WYSIWYM (what you see is what you "mean").
WYMeditor's main concept is to leave details of the document's visual layout, and to concentrate on its structure and meaning, while trying to give the user as much comfort as possible (at least as WYSIWYG editors).
Demo: http://www.wymeditor.org/demo/
Download: http://www.wymeditor.org/download/
A Markup And BBCode Editor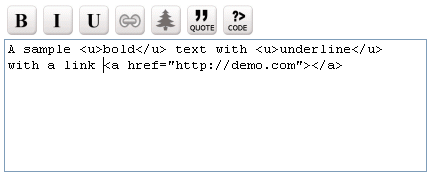 Website 1: http://corpocrat.com/2008/12/18/free-wysiwyg-textare…
Website 2: http://corpocrat.com/2008/08/15/free-wysiwyg-bbcode-…
Demo: http://php-login-script.com/taeditor/demo.htm
Powerful Markup Editor

SmartMarkUP is a flexible & lightweight JavaScript library that turns any textarea into a markup editor.
It can be configured to edit HTML, CSS, XML, Wiki syntax & BBCode.
Demo: http://www.phpcow.com/smartmarkup/examples
Download: http://www.phpcow.com/smartmarkup/downloads/