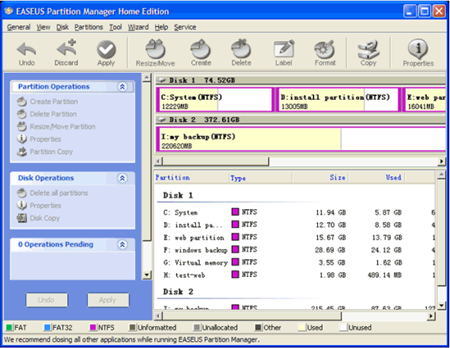 EASEUS Partition Manager Home Edition is a FREE disk partitioning utility that offers a powerful range of functions such as resizing partitions, formatting partitions, copying partitions, creating new partitions, deleting partitions, hiding partitions, changing drive letters, setting active partitions, and a handful other functions.
What's more, the freeware works perfectly with hardware RAID and Windows 2000/XP/Vista (32 bit) Operating Systems. Your data is completely protected during all operations.
Here are the main Features:
Resize, Move partitions without losing data.
Disk Copy, Partition Copy to protect data.
Copy with Resize to fit target space.
Create, Delete and Format partitions with simple step.
Hide and Unhide partitions.
So if you are planning to install Linux or Vista in a new partition this is the software for your case. Reading the upper features this software is good also if you want to format any hard disk but make sure you have make any backup first.
Easeus is compatible with Windows XP and Vista. Download Here