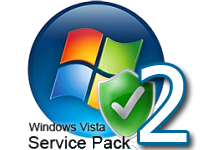 Windows Vista SP2 Beta is now available for download via Technet and MSDN sites. It is however a 388 MB standalone download for 32-bit versions or a 614MB download for 64-bit. A 1.2GB .iso disk image is also available from Microsoft's Web site.
But you can now legally download it via your Windows Updates. This SP2 weighs only about 41MB for 32bit or 60MB for the 64-bit edition as a Windows Update download.
Windows Vista SP2 supports new types of hardware and emerging standards that will grow in importance in the coming months and years. It improves the administration experience and eases certain management and support challenges. By providing these fixes integrated into a single service pack, covering client and server versions, Microsoft provides a single high-quality update that minimizes deployment and testing complexity for customers
To get your Vista SP2 through the Windows Updates, you will first have to download & save a short command script, then rename and run it with administrator privileges.
This script, will set a registry key on your computer that will enable Windows Update to offer you the Service Pack.
Having done this you will next have to download & install a pre-SP2 "Servicing Stack". This will let Vista's installer handle SP2.
After the next reboot you will be able to see the SP2 in your list of available updates.
Other Details:
Download Standalone Vista SP2 installer.
Windows Vista Service Pack 2 (KB948465) Beta – Windows Update Experience Kit.
Information about Windows Vista Service Pack 2- KB948465.
Via winvistaclub.com