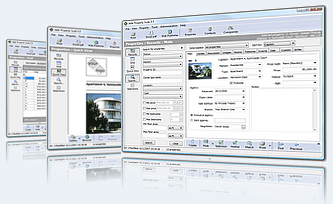 Are you running a Real Estate agency? If you are looking for software that is straight-forward, flexible and easy to learn, Jade Property Suite could be the answer for your real estate agency. This is because I love the free software, full of features and very easy to use.
The software allows you to generate a complete listings section for your website, to instantly print real estate brochures and flyers and to send PDFs by email.
Standalone or networked
Desktop database with easy search and fast data entry
Manage your real estate listings, contacts and enquiries
Publish your property listings to your website
Create personalized emails with full-color details
Print flyers, brochures, catalogs, reports, letters, labels and business cards
Customize to fit your business
Compact and powerful
Easy to install, understand and use
It has a database for your agency listings and contacts that is easy to update, search, match, print, export and web publish.
It can be used with a standalone local database or with a shared database in a multi-agent office.
Download Jade Property Suite