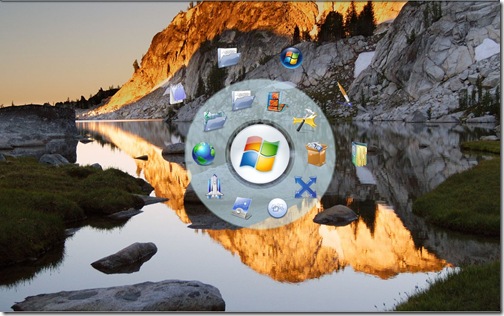 I don't take a lot of icons on Windows desktop, for me a small docklets and two or three folder icons. Who like docklets here is a nice one, called Circle Dock and  uses the same icons and skins that Rocket Dock and Object Dock use. All the icons and skins are basically high quality PNG images.
Features for Circle Dock:
Drag and drop your files, folders, and shortcuts onto a circular or spiral dock.
Rotate the dock with either your mouse wheel or the keyboard arrow keys.
Change the image shown for the icons and change the skins (compatible with icons and skins for Rocket Dock, Object Dock, etc.)
Ability to run the program from a portable USB memory stick and have the links in the dock point to the documents on the USB memory stick.
Ability to synchronize the links on the dock with the files, folders, and shortcuts on your desktop or other folders in real-time.
The dock appears where your mouse is by pressing a hotkey.
Works on computers with multiple monitors.
Download Circle Dock 0.9.1