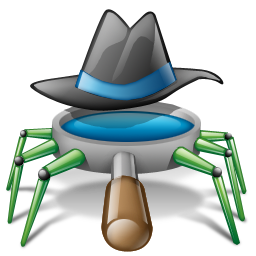 Spyware is computer software that is installed surreptitiously on a personal computer to intercept or take partial control over the user's interaction with the computer, without the user's informed consent.
While the term spyware suggests software that secretly monitors the user's behavior, the functions of spyware extend well beyond simple monitoring. Spyware programs can collect various types of personal information, but can also interfere with user control of the computer in other ways, such as installing additional software, redirecting Web browser activity, accessing websites blindly that will cause more harmful viruses, or diverting advertising revenue to a third party. Spyware can even change computer settings, resulting in slow connection speeds, different home pages, and loss of Internet or other programs. In an attempt to increase the understanding of spyware, a more formal classification of its included software types is captured under the term privacy-invasive software.
In response to the emergence of spyware, a small industry has sprung up dealing in anti-spyware software. Running anti-spyware software has become a widely recognized element of computer security best practices for Microsoft Windows desktop computers. A number of jurisdictions have passed anti-spyware laws, which usually target any software that is surreptitiously installed to control a user's computer.
Anti-spyware programs can combat spyware in two ways:
1. They can provide real time protection against the installation of spyware software on your computer. This type of spyware protection works the same way as that of anti-virus protection in that the anti-spyware software scans all incoming network data for spyware software and blocks any threats it comes across.
2. Anti-spyware software programs can be used solely for detection and removal of spyware software that has already been installed onto your computer. This type of spyware protection is normally much easier to use and more popular. With this spyware protection software you can schedule weekly, daily, or monthly scans of your computer to detect and remove any spyware software that has been installed on your computer. This type of anti-spyware software scans the contents of the windows registry, operating system files, and installed programs on your computer and will provide a list of any threats found, allowing you to choose what you want to delete and what you want to keep.
Such programs inspect the contents of the Windows registry, the operating system files, and installed programs, and remove files and entries which match a list of known spyware components. Real-time protection from spyware works identically to real-time anti-virus protection: the software scans disk files at download time, and blocks the activity of components known to represent spyware. In some cases, it may also intercept attempts to install start-up items or to modify browser settings. Because many spyware and adware are installed as a result of browser exploits or user error, using security software (some of which are antispyware, though many are not) to sandbox browsers can also be effective to help restrict any damage done.
Download | Anti-spyware programs