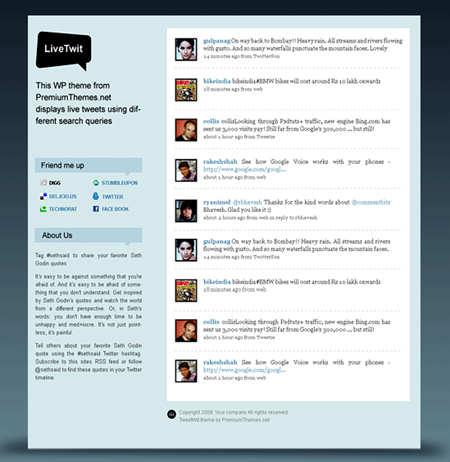 LiveTwit is a free theme for live streaming news on a hot topic or event. Articles are based on Twitter posts. LiveTwit is a light weight theme. On the left sidebar, it lets you change the logo, highlight your site message and in the FriendMeUp box, you may set your social media profile links.
Color Schemes Available 

Not only that, the theme comes with 5 super cool colorscheme so you could choose the color scheme to suit the mood of your site and event. And finally, good news is, you won't have to touch single line of code to setup and change any and all aspects of the theme. Built-in theme control panel handles all that dirty job for you.
Here is the link for demo and download link. And don't forget to follow us at http://twitter.com/lirent
Live Demo | Download Live Twit Theme