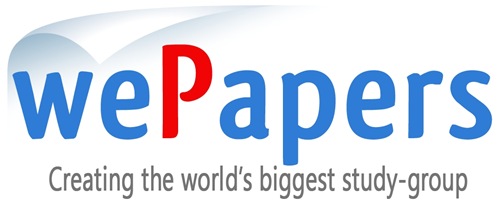 wePapers is a new free service that allows college and university students (or anyone seeking academic-level knowledge about almost anything) to download, store and share quality college papers and documents in a variety of formats such as Microsoft Word, Excel, PowerPoint, PDF and Open Office format.
wePapers allows you to preview the documents on your browser before you decide to download them or not, discuss them with others and manage your material. The preview option is a real time saver. The amount and quality of papers on wePapers is very impressive. The uploading interface allows you to upload up to 50MB at a time, and to categorize and tag your paper easily – which makes it very easy for others to find your paper.
Another feature that seems very useful is a Q&A section for each category (integrated with AOL's Yedda). This puppy seems like a serious social network on the emerging horizon, connecting students based on what they know – not just who they know.
Teachers and professors can also take advantage of this service, by publishing their material online and sharing it with students ant others.
If you're looking for some interesting quality documents about anything there is to learn in college, or just looking for a place to share what you've already learned with others, we guarantee you'll bookmark it.
This is a guest post. If you want to send your article please contact us!