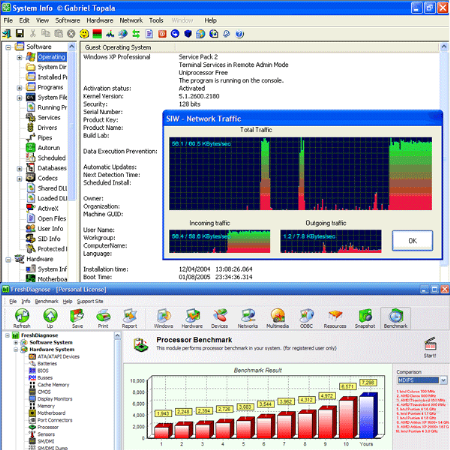 For detailed information about your computer I will recommend to use a System Information tool. The first one is called SIW (System Information for Windows) and gathers detailed information about your system properties and settings and displays it in an extremely comprehensible manner. SIW create a report file in CSV,HTML,TXT or XML. This tool can give you detailed information about Software, Hardware, Network and Real-time monitors where everything is divided in this major categories. SIW is in three versions,the first a standalone utility that doesn't require installation, SIW with installer free and a version with payment.
The other software that I want to speak about is Fresh Diagnose. A utility designed to analyze and benchmark your computer system. It can analyze and benchmark many kinds of hardware, such as CPU performance, hard disk performance, video system information, mainboard / motherboard information, and much more.
System Information: Scanning your system and give a complete report about your computer's hardware and software, for examples: mainboard information, video system information, PCI / AGP buses information, peripheral (keyboard, mouse, printer, etc.) information, Windows registry settings, and network information.
System Benchmarks: Testing your system performance, such as CPU, hard disk, CD/DVD ROM, and compare it with other systems.
Download Fresh Diagnose