Free Studio is the most complete software to work with audio and video files. This software is unique and this pack has all necessary tools to convert, download, edit your video or audio files. You can extract the audio from any video file and save in .mp3 format, also with Free YouTube to MP3 Converter by entering a Youtube video link you can extract and save the files in high quality mp3 format in just one step. Or if you want to save the videos you can use Free YouTube Download. You can convert your videos in more than 20 types of video format. Don't forget also the PSP and iPod video converter another amazing tool.
Free YouTube to MP3 Converter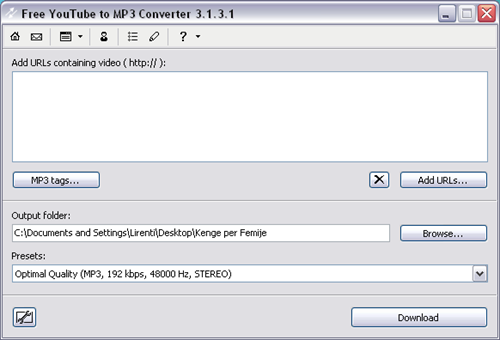 Click the Add URLs… button and enter a YouTube URL(s) to the Input field. The URL looks like:
http://www.youtube.com/watch?v=QBlIF5VAGds
Click the button Download along the bottom of the interface and wait just a few seconds.
AVS Video Converter

Click the To AVI or To DVD or To MP4 or To MPEG or To WMV or To 3GP or To MOV or To SWF or To RM button along the top of the interface.
Click Convert Now and step away from the computer (processor performance will be seriously affected during conversion). If you want to watch the progress while you convert, click the Advanced button until the viewing screen pops out of the bottom.
Video ReMaker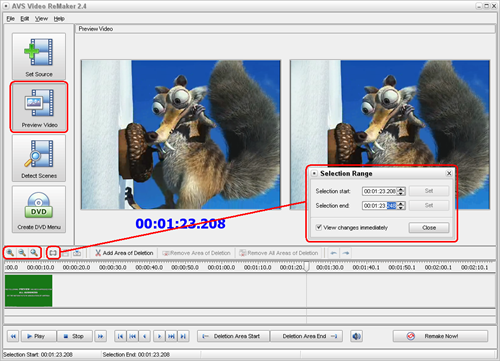 Click the Preview Video button on the left side of the window
Navigate the timeline to find places where your want to set split points. Use the Zoom buttons on the left side of the timeline to change the scale of the movie.
When you are ready click the Selection Range button to make the split point. Now increase the selection end position up to 40 milliseconds. For example, if the selection start point is 00:01:23:208, you should set the selection end point to 00:01:23:248. Now click Close and then the Add Area of Deletion button.
Repeat this action as many times as many split points you need.
AVS DVD Copy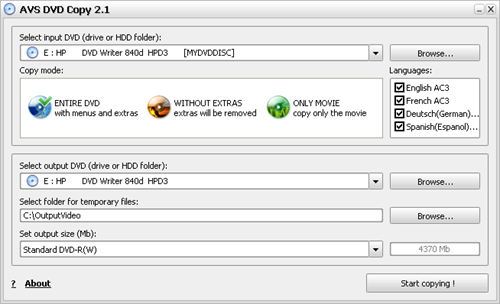 AVS DVD Copy interface is very simple. You can make all the settings like input and output DVD paths, copy modes, languages, output disc size and the temporary folder in the same window. As soon as you are ready just click the Start copying! button to make a perfect DVD copy.
Download FreeStudio.exe