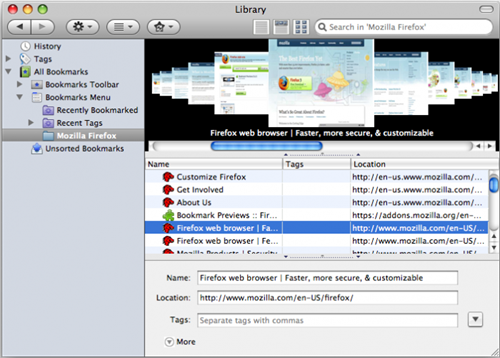 Along with an album view (like cover flow) and a thumbnail view (with drag and drop), this extension also adds previews to the tooltips in the bookmarks sidebar. Just hover over a bookmark in the sidebar to see the previews.
In Firefox 3 you can access the two new views by opening the Library. To get there go to Bookmarks>Organize Bookmarks. From there you can toggle the view with the 3 buttons to the left of the search box or from the View menu.
This extension will take previews of your pages whenever you visit or add a bookmarked page. When you first start you will be able to have the extension create previews for you in the background. You can also perform this task later by Choosing 'File>Create Previews' in the Library/Bookmarks Organizer.
By default bookmark previews for https are disabled. You can enable those and toggle previews in the tooltips of the sidebar from the options window.
Add to Firefox