Spam is growing, with no signs of abating. So what you do after installing also a spam filter application for your inbox. The question is MAKE USE of TEMPORARY MAILS. Here is the fact why I'm writing this post.
I found a interesting Pug-in for WordPress ad decide to download and test it. For downloading is requested a free registration. And still here we are OK. Be carefully what is write below the registrations field.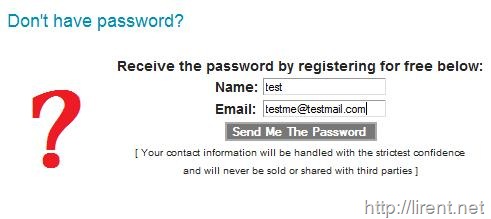 [Your contact information will be handled with the strictest confidence and will never be sold or share with third parties]
Ohhh!!! Thank you this is very nice. So we are quite and no spam or adverting in our mail box from this site.
But what happened? I open a temporary mail and fill the form to register. As you see there is also 1 spam mail from this site! Hmmm
The solution: Use the temporary mails.
Here down I will post some of temporary mail that you can use is some spam websites



MyTrashMail

MyTrashMail is good temporary mail service that gives you a mailbox in the address format e.g. [email protected]

Mailinator offers temp email addresses, to create an account just send emails. Service does not assign you an email address, you can use any email you want (@mailinator.com) anytime you want.

QuerrillaMail provides you with disposable e-mail addresses which expire after 15 Minutes. You can read and reply to e-mails that are sent to the temporary e-mail address within the given time frame.

Dodgeit provides throwaway address, for example, "[email protected]", then you can check inbox from homepage or subscribe to RSS feed to keep an eye on it.
MailExpire

MailExpire provides throwaway address, and allow you to have a temporary inbox from 12 hours to 3 months.
SpamMotel

SpamMotel requires registration, provides mail forwarding, mail can be accessed through desktop e-mail clients, can reply to e-mail from your real e-mail address using SpamMotel e-mail.

10MinutesEmail offers a temporary e-mail address. Some of the e-mails sent to that address will be shown automatically on the web page. You can read them, click on links, and even reply to them. The e-mail address will expire after 10 minutes.

Jetable provides you with a temporary email address. As soon as it is created, all the emails sent to this address are forwarded to your actual email address. Your antispam address will be deactivated as soon as the selected lifespan will expire.

Dontreg help to decrease the number of spam mails in your mailbox by enabling the use of a temporary email address. Simply type a @dontreg.com mail, for example: "mailto:[email protected]" then go to the site, type the name of the used mailbox and read your mail.

PookMail.com is a disposable email account system. Use PookMail.com to avoid giving your personal email address to suspicious websites.