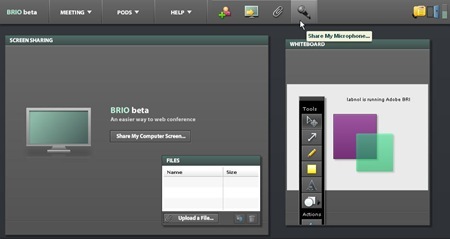 When Adobe acquired Macromedia, they re-branded the popular Macromedia Breeze service (for screen sharing and web conferencing) as Acrobat Connect.
The next version of Acrobat Connect is code named Adobe BRIO – the interface is now very different from Macromedia Breeze and other good news is that Adobe Brio is completely free during the beta phase.
Adobe Brio provides an impressive array of features including a Whiteboard, desktop screen sharing (with annotation tools), video conferencing and live online chat that can be saved as a Word document at the end of meeting. The Whiteboard drawings can also be saved as image files.
If you are in US, UK, Germany or France, Adobe provides a dial-in conference number that will allow all participants to talk to each other via the regular phone lines. Or if it is a training session, you can just share you microphone with other participants.
You can host unlimited online meetings in Adobe Brio with up to 3 participants per web meeting or screen sharing session.
The downside of Brio (and Acrobat Connect) is that you cannot record meetings in Brio and it doesn