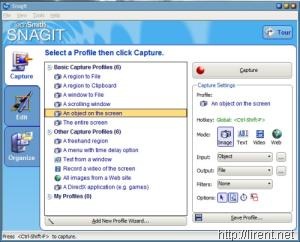 Giving away older versions of your software for free with an option to upgrade to the newest version for less is a valid business approach that not many software developers seem to follow. The benefit for the software companies is that the user gets used to their software and will be more likely to upgrade to a product that they are already familiar with.
SnagIt is a screen capturing software that is able to capture anything that is displayed on the screen including scrolling webpages. What I like is that you can create profiles that suit your needs and grab not only images and areas of the screen but also text and video. This is something that is missing from MWSnap, the software that I normally use to capture part of my screen.
There is another profile that I would like to mention, it downloads all images from a website which can be quite useful as well. I'm not that fond of the edit and organize categories because I prefer to edit images in a real image editor instead. Still, the option to edit images using the Snagit editor, to batch convert images or create a webpage with the captured images might appeal to some users.
Download SnagIt 7.25
Register SnagIt 7.25 for free
To sum it up: Snagit is a highly customizable screen capturing tool that excels when it comes to capturing text from the screen. The registration process requires a valid email address because the free registration key will be send to this email.
[via gHacks]