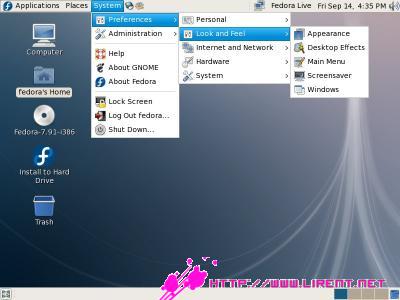 Over the years, Red Hat's Fedora has made a name for itself as a version of Linux for enthusiasts, developers, and those who want to try the latest thing in open-source software. But a curious feature of the new version 8, released Thursday, is the ability to strip out the Fedora identity altogether.
The reason: Red Hat wants Fedora to be a foundation for those who want to build their own Linux products on a Fedora foundation. With Fedora 8, that's easier, because all the Fedora-specific elements are wrapped up into one neatly optional package, said project leader Max Spevack.
Red Hat is releasing Fedora 8 Thursday.
"It becomes really easy to have a built-from-Fedora distribution that is branded in your own way," Spevack said.
That re-brandability is notable, given that even in the share-and-enjoy world of open-source software, people can become attached to their brands. But there's something in it for Red Hat, too: a potentially broader community.
Red Hat is vying with Novell's OpenSuse, Canonical's Ubuntu, and others for the attention of developers who can get involved in the project. A Fedora user no doubt is much more likely to become a Red Hat Enterprise Linux customer than the average Linux user. And while Fedora is free, RHEL is available only for a fee.
The ability to "re-spin" Fedora is attracting some interest. Among the Fedora-based variations that will be available are one for gaming, one for designing microprocessors, and one for programmers.
Images: A peek at Red Hat's Fedora 8 Linux
Those trying out Fedora can download what's called a LiveCD, which enables a computer to boot the operating system from a CD rather than from a disruptive installation on the hard drive. The LiveCD was introduced with Fedora 7, but Ubuntu got there first.
"Back when Fedora 6 came out a year ago, we didn't have a solid LiveCD at all. Ubuntu was killing us because they had it working," Spevack said. So Red Hat jumped on it, and Spevack thinks they even leapfrogged Ubuntu by making a variation that boots off a USB flash memory drive, he said.
"We recognized an area where we were lacking and fixed it in a way that now has set us up technically as being more advanced," he said.
Among other new features in Fedora 8:
– New software to do a better job detecting printers when they're plugged in, installing the appropriate driver automatically, and informing users as the process proceeds. "Plugging in a printer is one of those things that should just work. The new printer stuff we've got in Fedora 8 makes that a lot easier," Spevack said.
– A screen background that changes colors subtly as the day progresses, offering darker images at midnight, perking up as dawn approaches, and becoming bright blue mid-day.
– The PulseAudio application improves some audio abilities, for example letting users set different volumes for different programs or making sure that one user's music is hushed when the system is fast-switched to another user.
– The GNOME Online Desktop, which lets groups of users share information such as blog posting alerts or now-playing music information.
– The tickless kernel, a low-level feature designed to reduce power consumption and increase efficiency by letting the computer actually idle when it's not busy, is now available for 64-bit systems as well as the 32-bit systems that were supported when the feature arrived with Fedora 7.
[via news.com]