I see some news about "Fring" this days. How this work? Can we really make free calls? So froms fring website i found some inforamtions and is all to discover . Read and Download below the applications for your mobile phone. Let's Fring…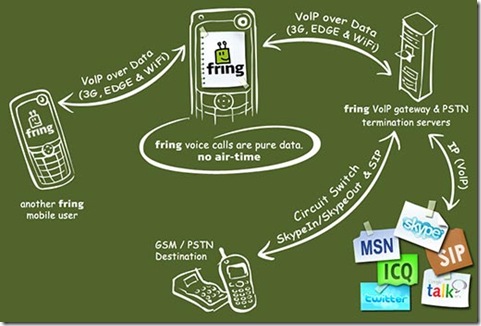 The fring mobile VoIP solution is designed to optimize the embedded internet capabilities within the subscriber's handset. The fring solution establishes a Peer-To-Peer VoIP connection between calling parties, enabling true VoIP sessions between fring enabled handsets and also between handsets and PCs.
fring™ is based on a unique thin-client technology that for the first time enables true VoIP over 3G, GPRS and Wi-Fi networks. fring dynamically adapts itself to the optimal network and handset characteristics while enabling seamless roaming VoIP on multiple networks. The dedicated three-sided P2P network architecture has been developed to support near telco-grade voice quality and network efficiency.
fring leverages the Internet connectivity traditionally used for mobile email retrieval and web browsing to provide mobile-VoIP communications so users can talk and instant message for free!
Fill your details
Download fring
Install and register
and Send us your impressions or leave a Comment. Thank you