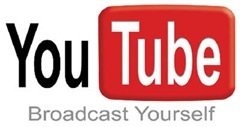 YouTube gains great popularity with every day. If you're a blogger and want to introduce some qualitative improvements to your blog, you can integrate YouTube.
Here are 10 ways how you can do it. It's up to you to choose one that will be appropriate for you.
1. YouTube Embed Code: YouTube provides "Embed" code for just about every video on its site. It's meant as an easy way to copy and paste the code to place a video onto your site / MySpace page, or whatever.
2. Copy and paste URL to the YouTube video page onto your site. Here you can find a more detailed explanation.
3. Create a Video Playlist:  login to your YouTube account, upload your videos to YouTube – click on My Account link at the top. Your email address will be confirmed before you are allowed to upload videos.
4. Include as a Sidebar Element: Blogger enables you to add YouTube videos as a sidebar element to your blog. Use the Blogger Dashboard to go to the Template tab, click Add a Page Element, and then select Video Bar.
5. Link your site to YouTube: In your account settings you can add your blogs and Web sites to YouTube. Then when you want to add a video to your blog of Web site you can do it with just a few clicks. See a detailed description at about.com.
6. Blog Video: find out how to use the easy Blog Video link in order to integrate YouTube onto your site.
7. Put YouTube on your MySpace page: a step-by-step guide for putting YouTube clips onto your MySpace page.
8. Badge Maker: use this tool will notify your readers of the most recent videos you've posted on your blog.
9. Exlusively for CS Blogs: This guide shows you how to integrate YouTube into your CS Blog.
10. WordPress Widget for your Favorite Videos: tutorial about how to install a widget that will allow your site's visitors to see your favorite YouTube videos.
[via lifehacker.biz]