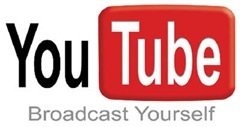 YouTube gains great popularity with every day. If you're a blogger and want to introduce some qualitative improvements to your blog, you can integrate YouTube.
Here are 10 ways how you can do it. It's up to you to choose one that will be appropriate for you.
1. YouTube Embed Code: YouTube provides "Embed" code for just about every video on its site. It's meant as an easy way to copy and paste the code to place a video onto your site / MySpace page, or whatever.
2. Copy and paste URL to the YouTube video page onto your site. Here you can find a more detailed explanation.