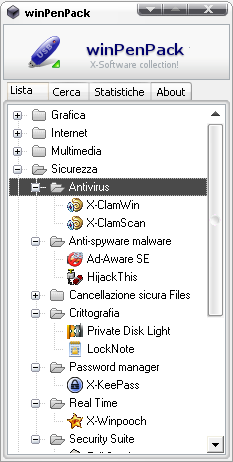 What is winPenPack
winPenPack is a collection of free and open source portable programs optimized for use with a USB pen drive and also directly from a folder of your Hard Disk. Here you can view winPenPack screenshots.
You can choose between some standardized configurations, all small enough to fit on your USB Pen Drive. Standard configurations include: winPenPack Flash Essential and winPenPack Flash 1Gb, containing the best open source and freeware software found on the Internet, made portable and divided by categories: Graphics, Internet, Multimedia, Security, System, Business and Utilities.
Beyond these "Standard pre-made" configurations, you can also choose some personalized suites such as winPenPack Flash School, containing educational software only, winPenPack Flash Expert, very useful for system administrators and advanced users and winPenPack Flash Web, for webmasters.
You can also create your own personal winPenPack collection. This can be done by referring to some simple guidelines, shown at: winPenPack Personal.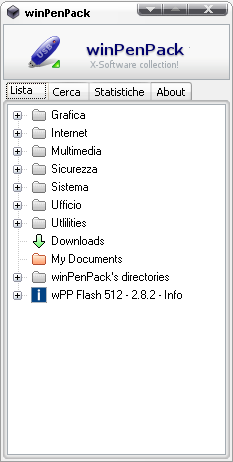 Portable software
"Portable software" is a class of software that is suitable for use on portable drives such as a USB drive, not require any installation, save settings into own folder and can be moved easy.
Software present on winPenPack, and also the single packed programs, are always standalone, so they don't need setup procedures. In fact all "portable apps" can be directly launched from your pen drive, passing through a simple and useful main menu, very similar to windows "Quick Launch". This launcher, called winPenPack Launcher, was written and is supported by winPenPack Team. When your pen drive is plugged into the host pc, you can immediately have your preferred apps ready to go! This is a new experience, like having your personal computer always in your pocket: your internet browser with your personal bookmarks and your saved passwords, your e-mail client with your personal mail accounts and mails, your ftp client, useful programs ready to modify and show your personal images, your preferred chat, maintenance and safety software for your pc…. Everything you need, always and everywhere!
winPenPack and single apps can also be directly used from a desktop/laptop hard disk, no installation required. Simply download your preferred package and launch the setup routine. You can choose a destination folder on your hard drive. When this simple step has ended, you are able to run each program from categories present in the winPenPack menu.
Two software's categories
You can also download single stand alone programs (not only the complete suite) present in these categories: X-Software (marked with the 'X' letter) and Portable Software.
"X-Softwares" category is composed from NOT natively portable programs, released under Freeware License or GNU General Public License, modified and made fully portable from winPenPack Team through X-Launcher, the universal launcher included with downloaded X-Softwares.
"Portable softwares" are natively portable programs that save settings in the own folder.
Download Area