If you've had a GrandCentral account for a while and enjoyed giving out one phone number that would ring all your phones-even your cell phone-but feared the service would be left to die by its Google overlords: cast aside your fears. Sometime today, your GrandCentral account should morph into Google Voice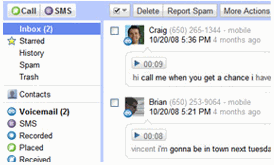 New features abound. Foremost among them will be the ability to make calls out through Google Voices. It's free to U.S. numbers and will save you a bundle on international calls in particular. The pricing will be similar to that of Skype Out, such as $0.02 per minute to call France or China. It can also handle conference calls. The old GrandCentral was strictly for calls in to you, so this could go a long way to making it easier for your friends and family to always call you back through your Google Voice number.
Other features promised include a friend setting to route calls you want and avoid those you don't, transcription of your voicemail messages, and even SMS text messaging to the Google Voice number which is forwarded to your mobile phone.