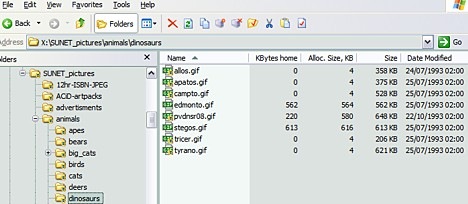 Here is how works; after installing StickyFolders, you have just got an Internet address (an 'URL') of a web- (or ftp-, or news-) server that holds files of your interest, – it could be text documents, software programs, pictures, music or video tracks, could be zip or rar archives containing any of the above, anything really, and you want to access (and use) those files as soon as possible. For that, all you you have to do is to create a new mounting point in SF, – a folder on the local hard disk that has a live connection with the remote source and that will be used to mirror and subsequently download contents of those remote files. In the program's Sticky Options dialogue, you enter that Internet address as a new mounting point source, along with a local folder on your hard disk (and, optionally, a dedicated virtual drive letter), that you want that remote Internet address to be mapped to (which becomes a mounting point destination). As soon as you click on the OK button after having done that, the specified folder or a drive letter appears in the File Explorer, empty so far and ready to be browsed.
As you get inside of that folder (via clicking on the folder's name), the remote files or folders from that Internet server begin to appear in the new destination folder or drive, not being transferred or taking up any hard disk space just yet but looking quite 'normal' and ready to be used by any application in your system (we call such file state 'sticky'; the file's hard disk usage is zero or minimal in the beginning, thanks to the special system feature called sparse files that is widely used in SF). If you double-click on any of the freshly-appeared files, it will be opened or start to play without much of delay, depending on your Internet connection's speed, no matter of what size or of what type the file is; that's when the actual network transfer starts taking place, – and the file's real contents begins to grow.
Here's a list with what you get with StickyFolders features:
highly efficient and user-friendly integration of the Internet data sources, such as files and folders residing on remote http, ftp, and Usenet news servers (more protocols are to follow) into your desktop file structure, – with the full drive letter-mapping support;
instant access to all types of remote files, -  you don't have to pre-download them before using, in most of the cases;
free positioning within the remote files being opened or played, independent of the network protocol and the file format used;
for remote multi-media files, support for preview, smooth streaming and efficient playback;
a powerful and flexible download client and manager for transfers under the above protocols, with robust folder synchronisation functionality included;
a built-in Usenet binary news reader with radically new features, – you can play music and video right off a news server with it !
ability to work with the remote archive files (zips and rars), as if they were folders on a hard disk.
Dowbload SFSetup.exe