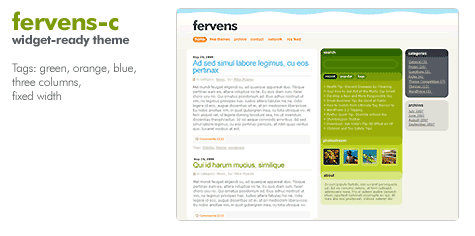 Fervens, free professional WordPress-theme. The theme has 3 columns of fixed width, widget ready. Fervents come in three versions content in the right, center, and left. Theme is designs by DesignDisease with Smashing Magazine collaborations.
Main features of the theme
3 columns of fixed width
widget-ready — two sidebars (both sidebars are supporting widgets, but I recommend to use the smaler one.
the theme is using 3 plugins; 2 of them are integrated into functions.php, so there is no need to install them. These plugins are Gravatar, Recent Comments and FlickrRSS. You can use the last one to present your Flickr images in a Flickr Photostream (see the demo).