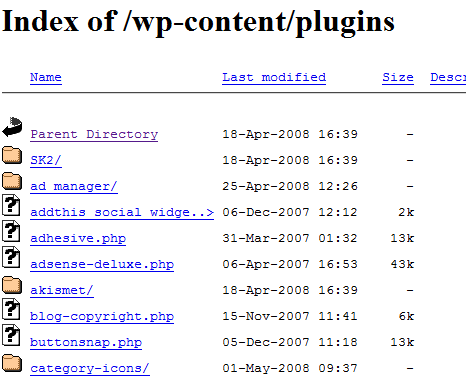 You are in a WordPress site and want to know what plug-ins is using that site or what themes? This is very simply do to, just browse websitename.ltd/wp-content/plugins and you will see a similar screen-shot as a made above the post. The same for themes /wp-content/plugins and wala! All the files and all the themes name.
But if you are a webmaster and you want to hide this or "protect"?! In two simply ways I want to show you how to add some hacks to your WordPress plug-ins and theme folder.
First Method index file: For the first method you have to create a html blank page called index.html
Open your FTP program and login to your host/server. Browse to yourbog/wp-content/plugins and upload the file that your create index.html. And the same for the other folders where an index file is missing.
tips:
If you prefer you can add a redirect code in you index file:
<meta HTTP-EQUIV="REFRESH" content="0; url=http://www.yourdomain.com/">
so every time that someone is trying to browse your web folders will be redirect to blog homepage
Second method .htaccess: Open a text editor like notepad++ or crimson editor and create a file called .htaccess
Type the following code replacing your domain:
Redirect 301 / http://www.example.com/
Upload the file where index file is missing in your host files.
That's all! Hope you enjoy this short guide. Comment what your think or if need any help!