Odiogo downloads the latest articles from the registered RSS feed. It extracts the relevant text from the page (only the white zones in the screenshot below) and converts it into a high quality spoken-word MP3 file that can be listened to on an iPod, MP3 player, phone or the PC.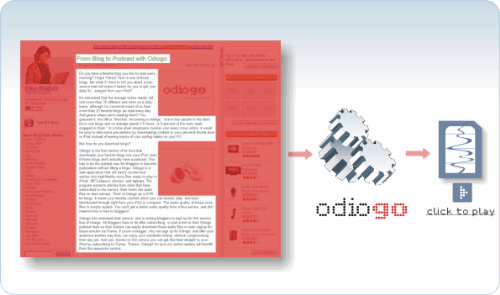 To install the Odiogo Listen Button on WordPress, please felow the instructions below.
If you do not have a Feed ID yet, please sign up here. It's free!
Download the plugin.
Upload directory odiogo_listen_button to your /wp-content/plugins/ directory via FTP.
Login to your WordPress admin account.
Click menu Plugins and Activate the Odiogo Listen Button plugin.
Click menu Options > Odiogo Listen Button.
Enter your Odiogo Feed ID and click Save.
Click menu Presentation > Widgets (or Sidebar Widgets depending on your WP version).
Drag and drop Odiogo Subscribe Button from Available Widgets to Sidebar.
Click Save Changes.