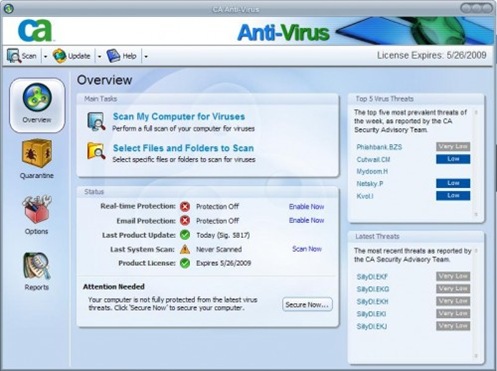 CA Anti-virus 2008 detects viruses, trojans and worms but not spyware and rootkits. It's currently compatible to the 32-bit editions of Windows 2000, XP and Windows Vista.
Here is what you need to do to get your free license. Visit the promo homepage and fill out your registration details. The page is in German, enter the following details from top to bottom: First Name, Last Name, Country, Email, Email Repeat, Password, Password Repeat. A click on Senden submits the form and an email will be dispatched that contains a link to the download page that also contains the serial number.
The download button on that page links to the German version of CA Anti-virus 2008, if you prefer a different version use the following links : English, Spanish, French, Italian, Japanese, Portuguese and two unidentified languages abbreviated tc and sc. The second is most likely Simplified Chinese.
{Via ghacks.net}