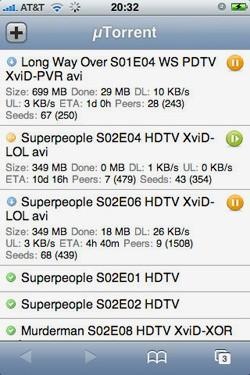 uTorrent for iPhone is a very simple iPhone optimized web interface — it allows for basic control of the µTorrent client (ver. 1.7.5), you can:
See the status of active torrents
Pause, resume a torrent
Add a new torrent by entering a url to torrent
(or minimova id)
Installation
To install the µPhone UI first download and install the µTorrent webui. Instructions can be found here and here.
Now download this zip, extract it, inside there is a folder called 'iphone' take that folder and place it inside the webui.zip that you installed in at '%AppData%\uTorrent' on your PC. Don't extract the webui zip just add the iphone folder to it.
Next on your iphone go to the url of your µTorrent webui adding /iphone/i.html (ie http://192.168.0.3:25673/gui/iphone/i.html), enter your username / password you should now see all your torrents.
{via davidraso.com}