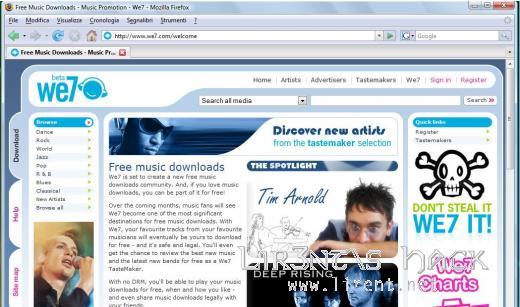 Free music downloads
We7 is set to create a new free music downloads community. And, if you love music downloads, you can be part of it for free!
Over the coming months, music fans will see We7 become one of the most significant destinations for free music downloads. With We7, your favourite tracks from your favourite musicians will eventually be yours to download for free – and it's safe and legal. You'll even get the chance to review the best new music and the latest new bands for free as a We7 TasteMaker.
With no DRM, you'll be able to play your music downloads for free, when and how you like – and even share music downloads legally with your friends.
Music downloads for free – but the artist still gets paid
The popularity of digital music downloads means that music fans are more likely to download music for free from illegal download sites. But can it really be right for us to exploit our favourite artists by taking advantage of free illegal downloads?
We7 makes it possible for you to enjoy free music downloads – but the artist still gets paid! Every time you download a free MP3 or video from We7, a small payment will be made to the relevant artist.
This is because we allow global brands and companies to include a message on the music tracks that users download for free, for up to 10 seconds or less on audio.
So you download music for free, brands pay for their message and your favourite musicians and artists get paid! Free music downloads are simple, legal and safe with We7.
Love free music downloads but hate ads? No problem!
If you love the prospect of free and legal music downloads but hate adverts, don't despair! We7 gives you a choice so you can download music the way you want.
If you want to download a music track without an ad, you'll be able to buy the MP3 at the normal price.
But for a free music download, We7 will feature the ad at the start of your music track. However, four weeks after you download your free track, We7 will give you the option of having the track 'ad free' – so you'll be able to take full advantage of our new free music download model.
Become a We7 TasteMaker – discover new bands with free music downloads
Join We7's revolutionary free music download community and you'll have the privilege of becoming a We7 TasteMaker. Our music download formula helps you discover the best new bands out there.
New musicians will be able to download and publish their music – and get paid for it. We7 TasteMakers decide whether or not a band's music is good enough to be downloaded on our site – so you'll have a hand in judging what's going to be big and what's not in our free music download arena.
Sharing is fun, legal and free with We7 music downloads
Most of all, We7 makes it possible for you to share your free music downloads in a safe and legal environment. With We7, you won't encounter any viruses, spyware or other downsides that are typical of illegal music download sites.
So you'll be able to introduce your family and friends to your favourite artists by sharing your music downloads for free in the We7 community.
http://www.we7.com/welcome