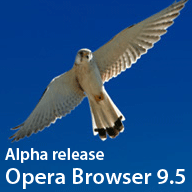 From My Opera Blog
The world's fastest…now even faster. :up:
Following the release of Opera 9 last year, we re-wrote Opera's rendering engine for the coming Opera 9.5 release. As a result, Opera 9.5 contains more than a year's worth of speed, standards and performance improvements. For more information we urge you to head over to the Desktop Team blog or click here if you want to get to know Kestrel better.

Are you planning to share your thoughts on the new alpha? We'll collect and share them in this blog post throughout the day. Link to your post as a comment here or submit using this form.
Official feedback should still be listed in the forums! So, don't forget to report bugs, but check the Known Issues list in the changelogs and discuss them in the forums or newsgroups first.