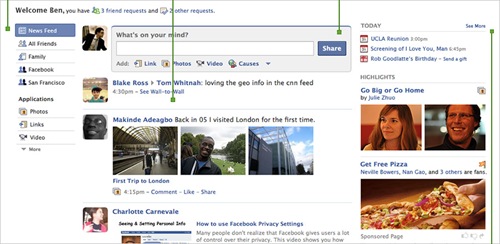 Facebook home page will be updated to make it easier to understand what's going on with the people you care about. Now your friends' posts are streamed in real-time and you have more control over what you see.
Filters
Make sure you stay updated on what the friends you care about are posting. Create your own filters using Friend Lists. You can also filter by applications, like Photos.
Stream
The stream shows you all posts from your friends in real-time. This keeps you up to date on everything that's happening. You can control who appears here.
Publisher
Publish your status, photos, notes and more into the stream. Posts show up both in your profile, and on your friends' home pages.
The publisher lets you share your thoughts and content like photos and notes into the stream. You have one stream—your Wall—on your profile, and one stream on your home page that represents the on-going, flowing conversation between you and your friends.
Pages now look and behave more like user profiles. Become our Fan
via Facebook