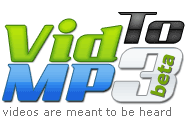 I was asking if is any simply and fast method to convert online videos to mp3 and when I found VidToMP3. VidToMP3 is free service that allows you to download the audio (mp3 format) from none-copyrighted video clips on video sites! The website support most popular video websites sites like; Myspace, Youtube, Google video and more.
Copy the FULL address of the page with the video.
(ex: http://www.youtube.com/watch?v=GDR8GC3AGTF)
Paste the address you copied into the text box below.
Click "Download", and wait. Please be patient.
When conversion is complete, click on "Download MP3".
Done!

Convert Video to MP3