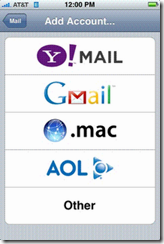 Posted by Keith Coleman, Product Manager
There's a new software update for the iPhone. The next time you sync your iPhone with iTunes, your iPhone will be updated to version 1.1.3 of Apple's software. It has a nice new feature — the built-in Mail app on the iPhone will now use IMAP to access your Gmail account, rather than POP, like it used to. IMAP is way better — it keeps your mail in sync wherever you read it. If you read a message on your iPhone, it will be marked as read in your Gmail account. If you move a message to a folder on your iPhone, it will be moved to that label in Gmail. If you delete a message on your iPhone, it will be moved to the Trash in Gmail and permanently deleted in 30 days. This is different than what used to happen! Before, deleting a message on the iPhone had no effect on your Gmail account. But now, delete actually deletes! 🙂
If you want mail you delete on your iPhone to get archived in Gmail rather than moved to the Trash, you can manually set up IMAP using the "Other" menu option and follow the instructions in the Gmail Help Center or in our instructional video.
[youtube uQ22euWXYog]
If you have already manually configured your iPhone to access Gmail using IMAP via this "Other" menu option, then nothing will change for you, and you're good to go. (When you delete a message on your iPhone, it will get archived in Gmail, not moved to Trash. Just as it always has.)