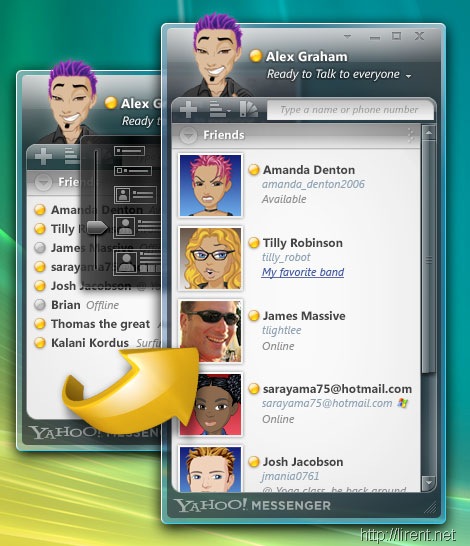 Early this year in January, Yahoo announced that they had designed a new messenger from the ground up just for use with Windows Vista. They wanted to take advantage of all the new features specific to Vista like the display and user interface, as well as Vista's Windows Presentation Foundation. The previews looked awesome and the list of features was sure impressive, but it's been almost a year now and we hadn't heard anything about it's progress or whether or not they were even working on it… until today! That's right, it's not vaporware like some of you thought. It's finally here and for those of you just itching to try it, a preview release is available for download.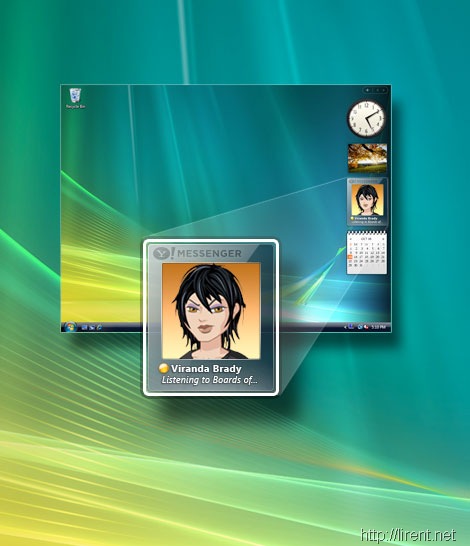 So what makes this version of Yahoo Messenger specific to Windows Vista? There are two main things:
New interface that takes advantage of WPF
Makes use of Windows Vista Sidebar
There's a whole list of features that are pretty impressive:
Huge selection of new and improved animated emoticons
Color code chat windows (pick a different color for each contact you're talking to so it's easier to keep track of)
Combine chat windows into one and then they will be tabbed with all conversations in one window
Drag contacts from the contact list onto the sidebar gadget so that keeping track of their status is easier, and then starting a conversation takes one click
Drag and drop files up to 2GB in size into the message Window
Spell check as you type (knows LOL isn't something that needs to be corrected)
Works with Windows Live Messenger contacts
Resize contact list (multiple columns if you'd like) and resize the size of your buddies avatars
The Yahoo Messenger for Vista team put together a video that shows all of the new features in action.  There's a high quality version available which you can view, or you can just view the video below in a lower quality.
[yahoo 1577005]
Yahoo! Messenger check it out
{via cybernetnews}