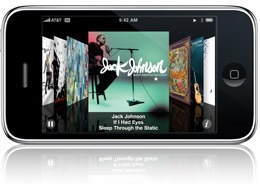 The new iPhone hasn't even landed in stores yet, but already pundits are grumbling about the revised iPhone, based on demos and published specs, about what the new model has failed to fix since the first-gen device.
Yes, we get 3G and GPS, a way to connect to Exchange, and the new app store, but what about everything else? Forbes' Brian Caulfield outlines seven (actually eight) iPhone disappointments, and most of these observations are spot on.
The cost – I've written about the value proposition of iPhone 3G already, and sure enough it'll cost you an extra $160 or so over the next two years vs. the original iPhone. Worth it? It's debatable, but I can't blame people for not being happy about the service price hike.
The camera – Forbes notes that there's still no flash and no video recording on the device. I'll add the camera resolution: We're going to see 8 megapixel cell phone cameras in the U.S. this year, and the iPhone is still stuck with a puny 2MP model? Many early rumors also had expected the iPhone 3G to include a forward-facing camera for videoconferencing use. Naturally that didn't happen either.