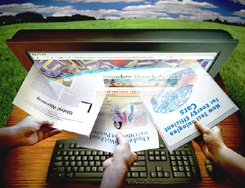 Every day new computer viruses are created to annoy us and to wreck havoc on our computer systems. Below are ten viruses currently cited as being the most prevalent in terms of being seen the most or in their ability to potentially cause damage. New viruses are created daily. This is by no means an all inclusive list. The best thing you can do is to remain vigilant, keep your anti-virus software updated, and stay aware of the current computer virus threats.
Virus: Trojan.Lodear
A Trojan horse that attempts to download remote files. It will inject a .dll file into the EXPLORER.EXE process causing system instability.