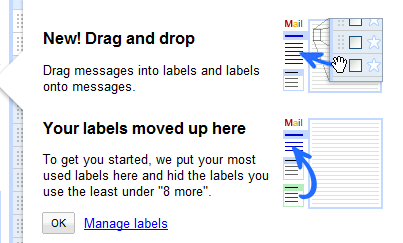 A new way to introduce the new features for Gmail. While opening the mail box this morning I get this popup window. Gmail's labeling toolkit now have a new location and hiding label. Added also the drag and drop options. Let's have a closer look:
1) New location for labels
You'll notice your labels in a new location on the left of your inbox (or on the right, for those of you using the Arabic, Hebrew, or Urdu versions of Gmail). Instead of having their own section, your labels are now above your chat list, grouped together with Inbox, Drafts, Chats and other system labels.