The GDrive rumors have resurfaced.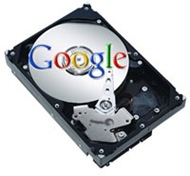 This morning, The Wall Street Journal reported that Google is preparing an online storage service capable of housing all the files you now store on your very own hard drive. According to The Journal, the service could allow access from both PCs and mobile phones, and it could be released "a few months from now."
Of course, talk of the elusive GDrive is nothing new. Rumors date back to March of last year, when Google accidentally dropped this particular G word into a PowerPoint presentation it was prepping for a get-together with industry analysts.
The presentation exposed a secret plan to store "100% of User Data": "With infinite storage, we can house all user files, including: emails, web history, pictures, bookmarks, etc and make it accessible from anywhere (any device, any platform, etc)", it read, before matter-of-fact-ly pointing out that this sort of thing was already part of company projects known as GDrive, GDS, and Lighthouse.
We asked Google if some sort Googlicious storage service is now imminent, but the company completely ignored us.